The Dayo Empire is an area west of Central controlled by Exodio, doorgunnerjgs, and the 47 brood of Exodio.
The Royal Highway is a project to connect the reaches of the Empire.
Eben Cair is the area controlled by Exodio, and centers around the town of Eben Cair. It borders Arlandria to the east, Seagot south, High Tor to the west and the sea in the north.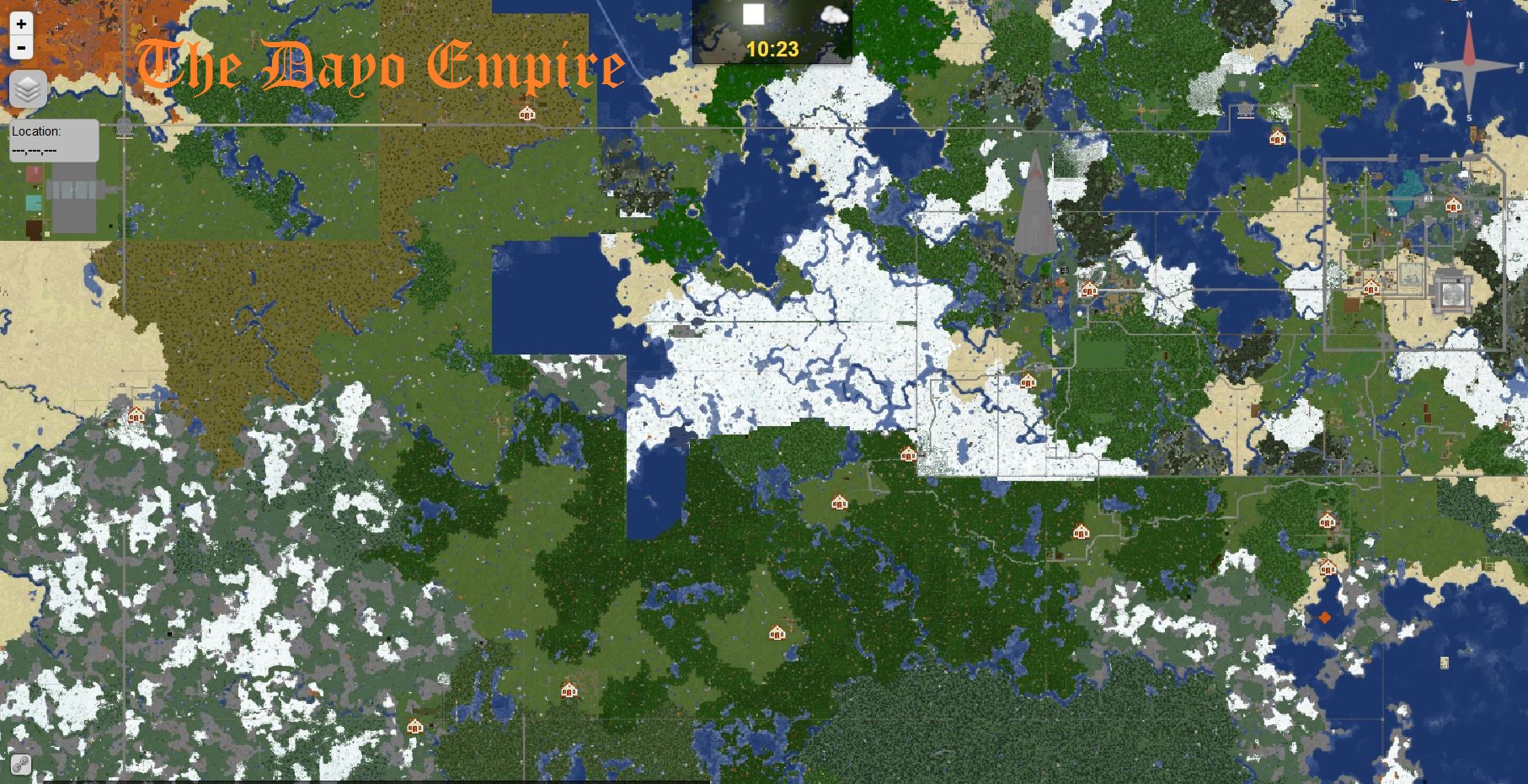 Explore the mapped places of the Dayo Empire.
Lord Azarand's Statue
Dome of Paleneldor
Dithani's Tower
The Threefold Light
Library of Azarand
The Bizarden
Italics are lit and tunneled, but have not been railed
Bold are lit, tunneled and railed
Kalapi Downs: -4300 69 1150
Nether Side: -538 85 144
Adagar: -6499 66 696
Nether Side: -812 34 87
Topia -5848 85 843 - Enter N
Nether Side: -730 85 105
Nerith: -5147 70 645 - Enter N or S (5 base 5 side)
Nether Side: -643 85 81
Black Lanth Keep: -4743 80 661 - Enter S
Nether Side: -593 85 83
Tethandia: -5516 73 582 - Enter S
Nether Side: -690 85 73
Sarindor: -5800 68 89 - Enter E
Nether Side: -725 85 11
Huir en Palidor: -4663 71 -76 - Enter N
Nether Side: -582 86 -10 - Enter E
Dorington Acres: -6212 64 -176
Nether Side: -777 85 -22
Mistral Cair: -5547 79 -260 - Enter E
Nether Side: -693 86 -33
2nd Floor
doorgunnerjgs Mesa Home: -5320 74 -3640
Nether Side: -666 80 -456
Korvo Pos: -4320 64 -215 - Enter S
Nether Side: -540 85 -27
Baros Duledin: -3372 71 -220
Nether Side: -421 86 -28
Groton Keep: -4192 90 573 - Enter W
Nether Side: -524 86 72
Monrith Abbey: -3981 72 183 - Enter E
Nether Side: -497 112 22 - Enter W
Liachim's Sain: -3584 83 393 - Enter W
Nether Side: -446 85 46
Open
Karakor: -3518 71 893 - Enter S
Nether Side: -440 86 112
Grand Tor Station: -3050 73 616 - Enter S
Nether Side: 381 86 77
Tanlan Ride: -3879 74 1119 - Enter N
Nether Side: -485 85 140
Orios: -2884 69 1218
Nether Side: -360 85 152
Primlark: -3319 63 1281
Nether Side: -414 36 160
Jutet: -3020 73 1888
Nether Side: -378 85 236
Merl's Magical Land: -3636 70 1408
Nether Side: -455 85 176
Catanor: -4054 73 1550
Nether Side: -507 86 194
Ancient Woods Lookout: -4121 64 1813
Nether Side: -515 85 227
Kantor Mons: -3962 79 2353
Nether Side: -495 85 294
Pumpkinville: -3698 64 2645
Nether Side: -462 85 331
FallHaven: -4321 65 1892
Nether Side: -540 86 237
Halatis Hub: -6464 64 2552
Nether Side: -808 85 319
Lost Antium: -4765 75 2417 - Enter N
Nether Side: -596 85 295
Vale of Sarnith: -5793 78 2153 - Enter S
Nether Side: -724 85 269
Kainlan Wirth: -4861 73 1777 - Enter W
Nether Side: -608 84 223

Castle of Forlorn Hope (No direct line): 5371 100 1922
Nether Side: -663 92 235
Castle of Forlorn Hope Lower Portal (No direct line): -5236 69 1828
Nether Side: -655 69 227

Galgabron Hub: -6054 114 1654 - Enter S (4 base 4 side)
Nether Side: -757 85 207
GamerFroggo's Floating Castle: -4634 165 1521
Nether Side: -579 85 190
AlphaSniper's Mystical City: -5177 70 1314 - Enter N
Nether Side: -647 85 164
Open
2nd Floor
Alex Town To Be Named: -4974 75 3628
Nether Side: -623 92 454
Halatis Main: -6392 80 2552
Nether Side: -799 86 319

Halatis North: -6473 103 2096
Nether Side: -809 85 262

Halatis Junction: -6472 109 2308
Nether Side: -809 85 288

Halatis East: -6304 93 2319
Nether Side: -788 85 290

Halatis South: -6503 113 2690
Nether Side: -813 85 336

Halatis Southwest: -6624 81 2550
Nether Side: -828 85 319

Halatis West: -6640 118 2328 - Exit West into Overworld
Nether Side: -830 85 291

6616 - 6648
Galgabron Northeast Gate: -5909 81 1492 - Enter S
Nether Side: -739 85 187
Galgabron East Gate: -5896 78 1609 - Enter S
Nether Side: -737 85 201
Galgabron South Gate: -6205 82 1755 - Enter S (5 base 5 side)
Nether Side: -776 85 219
Galgabron West Gate: -6286 87 1549 - Enter W (5 base 5 side)
Nether Side: -786 85 194
Meraven:
Raith: -1507 68 786 - Enter E
Badwolf Rock:
Black Sun:
Cacyphrax Fortress:
Seagot:
The Kingdom of Ryloth: