¶ The Island
Irferlion is an island in the west, up west of Junction House Gamma.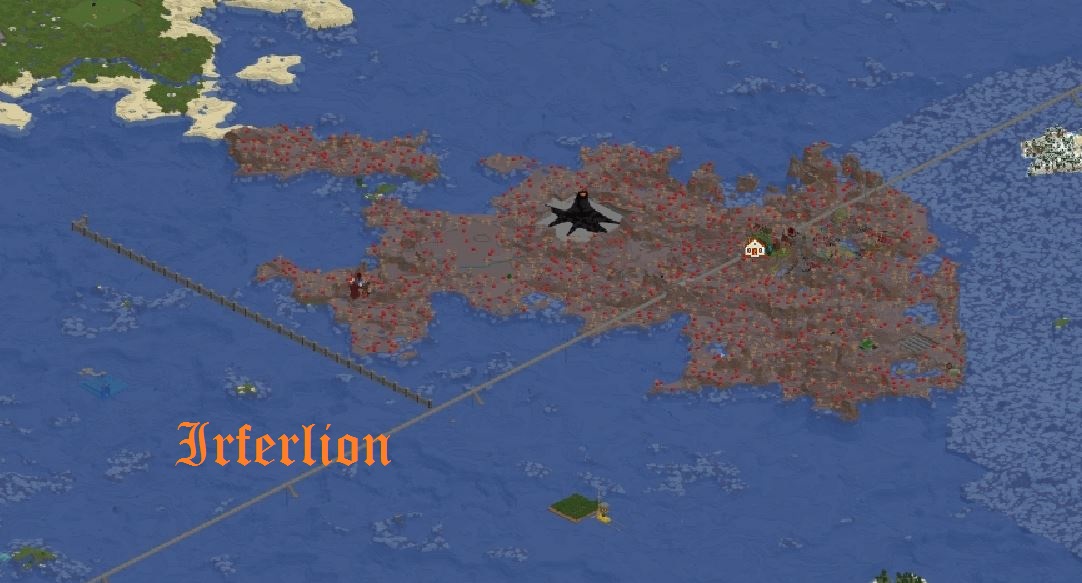 Irferlion's Lore:
Long ago, in ancient times, massive earthquakes shaked the lands, creating a volcano.It is believed that it erupted thousands of times, forming the land now called "Irferlion". This was not an ordinary volcano. Mushrooms larger than usual started growing on top of the purple moss that covered the island.After the Horsemen had created the Cavern of Science, they realised that they needed a place to keep duplicates of theircreations, just in case something happened to the Cavern. The location chosen was near the Core of Irferlion,underneath the volcano. Anyone without a pure heart shall not approach the Core.
Centuries passed, and the first traveller discovered Irferlion. He decided to plant some trees, as he was planning to stay for a while on the island. He later discovered the volcano, and felt the power from the Core as well as the Horsemens' creations. Wanting to possess such power, he attempted to steal it, and in return, he died, for approaching the Core without a pure heart.
The trees continued to grow as the time went on and eventually became a big forest. A wandering fairy named "Gloxinia" discovered it. He was got lost while exploring the surrounding areas of his home, where the rest of the fairies lived. Being seperated from his family, he crowned himself as "The Fairy King". The Fairy King blessed the lands and it kept flourishing. Eventually, more fairies started being born in "The Fairy King's Forest", as they called it.