A beautiful island north of the Creeper Citadel, Paradise Resort Island is a great place to relax and enjoy the island life. A mob-free paradise, roam around and help yourself to the Island's comforts.
Paradise Resort Island on the Map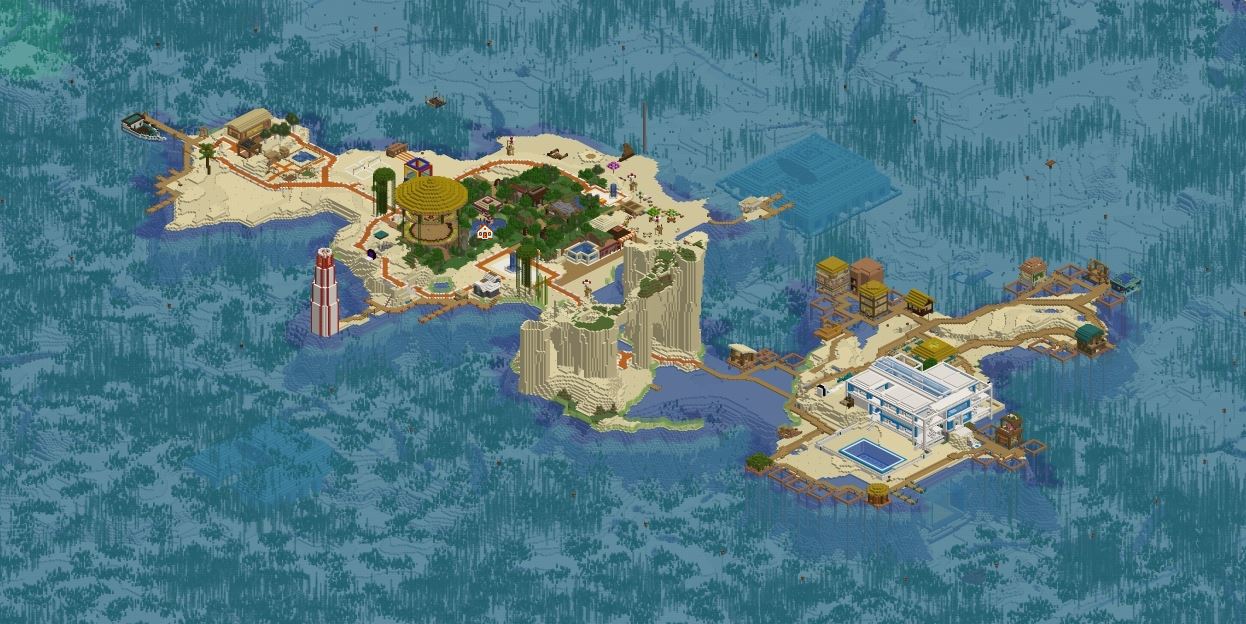 The whole of Paradise Resort Island is designed to help you relax and enjoy a brief time away from the rigors of day to day life on the Lab. Explore at your leisure!
The Blue Palm Hotel thanks everyone who joined the Bungalow Contest! Most of the entries will find a permanent home at the Resort.
Congratulations to the winners:
1st Place: ROEN_44
2nd Place: TIE Sane_Tezz and the team of Chilling_Slav & D_0C
3rd Place: TIE GroovyBanana and Doctacosa
Prizes will be in your mailboxes, Groovy and Doc please talk to me to claim your chair at the Blue Palm Bar!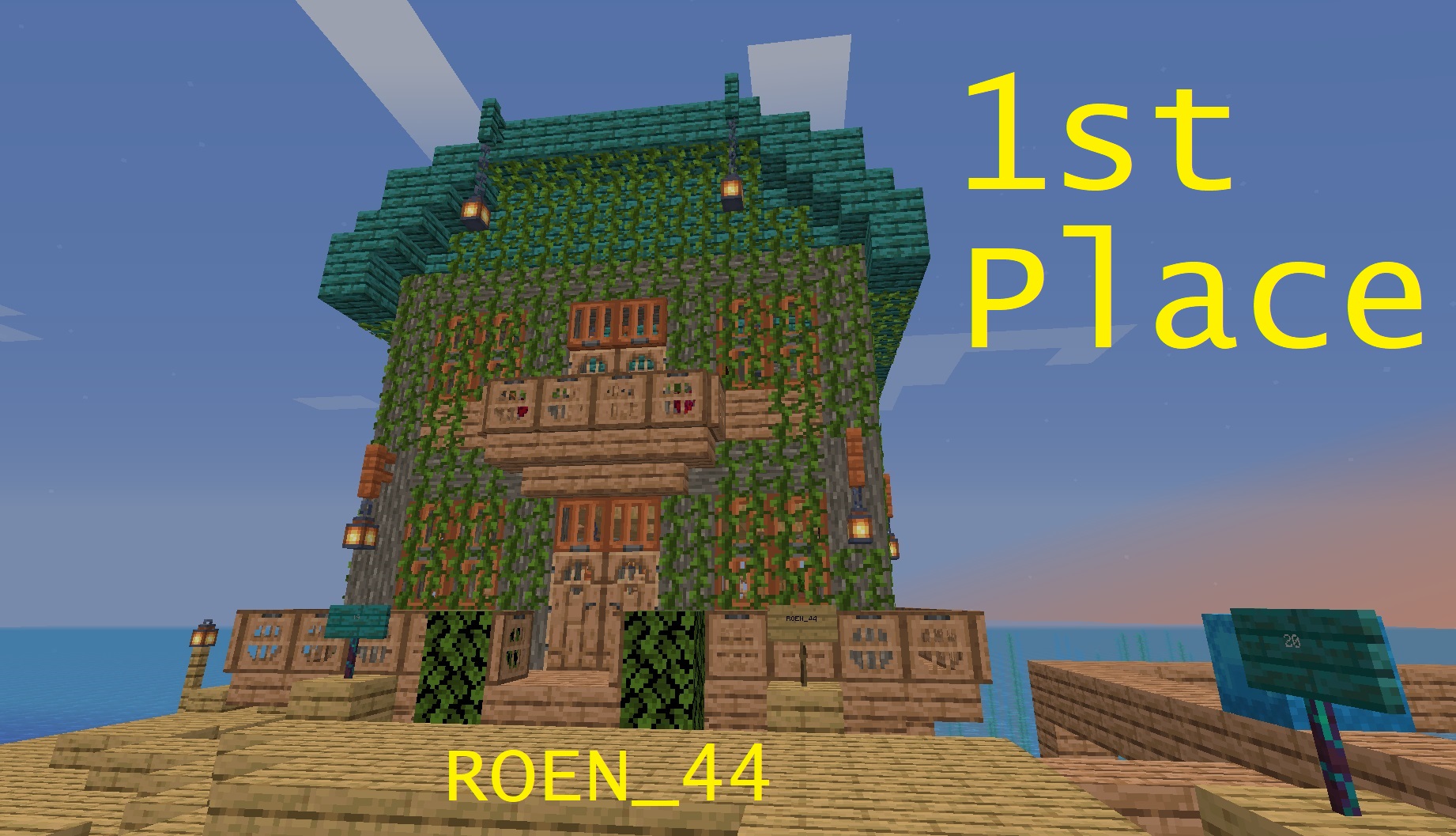 And here are all of the entries, by Bungalow Number. Judging was by Exodio with input from Mrs. Salifax. Please note that a Bungalow is considered a one or two story building with a porch, and if a second story exists, it is typically a half-sized floor with an angled roof. I tried to be objective as well as appreciating the aesthetics of each entry in their own right. This was very difficult to judge but I had a great time doing it, and seeing what was built.
MrTweety10 & Austintexas21
Bungalow 1
A functional and simple Bungalow that inspires a feel of rustic Island living. Capturing a barebones style, the detail on the exterior structure of this is great. This would be a great vacation stay for someone who wanted to feel the ocean breeze and put aside the complexity of modern life. Great designed Bungalow, with a half roof on the second floor and a porch to look out over the water from. No frills interior for the roughing it guest.
Creativity: 8
Functionality: 7
Theme: 10
Overall Score: 8.3
Austintexas21
Bungalow 2
Not an entry. Tiny Bungalow. Very cute.
NicDaKermit
Bungalow 4
Acting like Exodio will not get you extra points. Incomplete build is incomplete.
Creativity: 1
Functionality: 1
Theme: 1
Overall Score: 1.0
AlexTheTrain
Bungalow 6
An impressive edifice stretching up over the beach, this squared off three story home away from home is loaded with details and rooms. Points were deducted for not being a traditional Bungalow style, but this is a welcome addition to the Resort offerings. Featuring 3 bedrooms, a full kitchen, bathroom, living room and shower, one would be comfortable with all the amenities while visiting the Island.
Creativity: 10
Functionality: 10
Theme: 7
Overall Score: 9.0
GroovyBanana
Bungalow 9
Another impressively built three story, this entry feels open and airy throughout. Focused around a back porch designed to sit and eat and sit some more, one could spend many evenings relaxing and listening to the included Parrot as the sun goes down. Open areas upstairs allow the kids and adults to relax together, and there are plenty of beds. Capped off with a third floor balcony, this is the lap of Island luxury.
Creativity: 10
Functionality: 10
Theme: 8
Overall Score: 9.3
Zoreau
Bungalow 9
The next in the skyscraper district of Bungalows, this entry has an impressive start and is laid out very functionally inside. The first floor is well planned and has a dining area, sitting room and a small bookshelf. Upstairs feels unfinished though, with no decor to speak of in the bedroom or third floor. The designer is welcome to come back and take another crack at the inside once the contest grounds have been opened back up to the public!
Creativity: 7
Functionality: 6
Theme: 6
Overall Score: 6.3
MeridianNight
Bungalow 11
A cute Bungalow with a great color scheme, this entry has far more detail and room inside than what is suggested by the exterior! A great little breakfast area, rear boat launch, and a cozy upstairs gives a nice feel for the guest looking for a simple yet comfortable stay.
Creativity: 9
Functionality: 9
Theme: 9
Overall Score: 9.0
Coneva
Bungalow 13
Another smaller entry, the plain looking but interesting exterior hides a sweeping interior that is spacious and colorful. The back porch looks out over the water and is a great place to relax and enjoy the Island breeze. Lots of hangings make this feel like a true Island getaway.
Creativity: 8
Functionality: 8
Theme: 10
Overall Score: 8.7
GamerFroggo
Bungalow 16
A great start, it looks like Froggo went the way of Uncle Salifax and forgot to finish his entry. Come back and finish up someday!
Creativity: 5
Functionality: 1
Theme: 4
Overall Score: 3.3
SaneTezz
Bungalow 17
Everything about this entry says "WOW". The colors, the choice of detail, the contrast, and especially the aquarium in the ceiling. A back porch to sit and enjoy, and grill out some fish, completes this one roomed Bungalow.
Creativity: 10
Functionality: 9
Theme: 10
Overall Score: 9.7
*ROEN_44
Bungalow 19
This one has it all. Great jungle looking exterior with loads of details, a colorful interior to match, and tons of neat little details throughout. This is a fantastic show piece for the Resort, and the amount of thought put into this shows. A nice porch around the Bungalow, a great over the sea balcony with kitchenette and seats to enjoy the view from. Great experience overall for the discerning guest.
Creativity: 10
Functionality: 10
Theme: 10
Overall Score: 10.0
ChillingSlav & D_0C
Bungalow 34
This colorful entry is a lot of fun. Lots of little details pepper the Bungalow, from the kitchenette area and treat filled table to the little beach area on top of the roof. The sitting area downstairs is open and inviting, but not as open as the bedroom area upstairs. This would be a great place for a family with rugrats running around enjoying the mishmash of color and style!
Creativity: 10
Functionality: 9
Theme: 10
Overall Score: 9.7
Doctacosa
Bungalow 38
And open and rounded hut type Bungalow, this story and a half has the trimmings of an Island Paradise from the colorful carpets to the hangings to the open walls. A quick climb up and around the back ladder lets one enjoy the ocean breeze from the straw topped roof.
Creativity: 10
Functionality: 9
Theme: 9
Overall Score: 9.3
TacoBell96
Bungalow 43
This Bungalow could belong to Peter Pan and the Lost Boys. Full of leaves and decorative hangings, this simple dwelling would be a great place for a rugged outdoors type looking to experience all the joys of the open Island air.
Creativity: 9
Functionality: 8
Theme: 9
Overall Score: 8.7
Exodio is hosting a Bungalow Building Contest on Paradise Resort Island for Summer of 2021. The contest will be open from Friday, June 18th at 9PM EST through Sunday, July 4th at 9PM EST and there are 32 Bungalow Sites and 9 Hotel Rooms to choose from! Grab one early for the best views!
*** Any free Bungalows or Hotel Rooms will be up for grabs as of the start of Event Night on July 3rd if anyone wants to build a 2nd Bungalow. Only one entry will be judged as part of the contest, builder's choice.
¶ Getting to Paradise Resort Island
Overworld: Go to Creeper Citadel and fly North/Northeast about 2,000 blocks.
Nether Central> Northeastern Railway> Nether Station Moose Sanctuary> Paradise Resort Island> Blue Palm Portal
Event Night> Take Tardis to "More Attractions" and find the door for "Paradise Resort Island".
Each Bungalow is a 10x10 platform of Jungle Planks. Each Hotel Room is enclosed and is a set size. In order to create a Resort Feel to the area, please follow the rules.
Quick Reference:
Place sign to claim
Natural/Resort Feel. No hi-tech.
Max 15 block build height
Hotel Room functionality
Platform replacement ok with Planks of any type
Full Rules:
Select your Bungalow or Hotel Room, and take the Paradise Resort Gift Bag. Inside is a gift as well as the rules manual for easy reference in game.
Place the sign on the platform outside your hut with your name on it.
The building area is the platform and up. You may make the platform any type of planks or log (including stripped), but the legs must be all of the same material.
Your Bungalow should look like it belongs on an Island Resort. No futuristic, hi-tech look. It should be made of natural looking materials and feel like something you would find in a tropical paradise.
It can be square as the platform, or you may make it a different shape depending on your idea.
These Bungalows are intended to be "Hotel Rooms" that can be used by future visitors to Paradise Resort Island. They should be furnished as such, and should have at least 1 bed. Imagine your dream resort Bungalow on a tropical island.
You may overhang on each side by 1 block. This can be anywhere from the platform on up. This provides a total footprint of 12x12.
There is no strict height to be build to, but in keeping with a natural island hut theme, it should be no more than 15 blocks up.
*** The Rooms portion of this contest are slightly different in scope. They are in the main Hotel building and can be built within the quartz blocks. The planks they start out with can be changed out. Judging rules are the same.
You may connect your bungalow to the main walkway with up to 4 slabs. You must have a walkable entryway (i.e., do not build a platform that you have to jump up to in order to get in)
Judging will be based on Creativity, Functionality and Theme. Each category will be between 1-10. The overall score will be the average of the 3 categories. Ties will be decided by a neutral party (Mrs. Salifax).
Creativity: Is this just a hut with 4 walls and a bed? Or is it a decorated room of beauty?
Functionality: Could I see staying here on a visit to the Resort? Would it be comfortable?
Theme: Does it look like it belongs on an Island Paradise?
In addition to the Paradise Resort Gift Bag that every entrant receives upon participating in the contest, the following prizes will be given out.
1st: 1 stack of Diamond Blocks (Plus a special gift from a special Vendor of the Island)
2nd: 3 stacks of Emerald Blocks
3rd: A permanent chair at the Blue Palm Bar, complete with the winner's name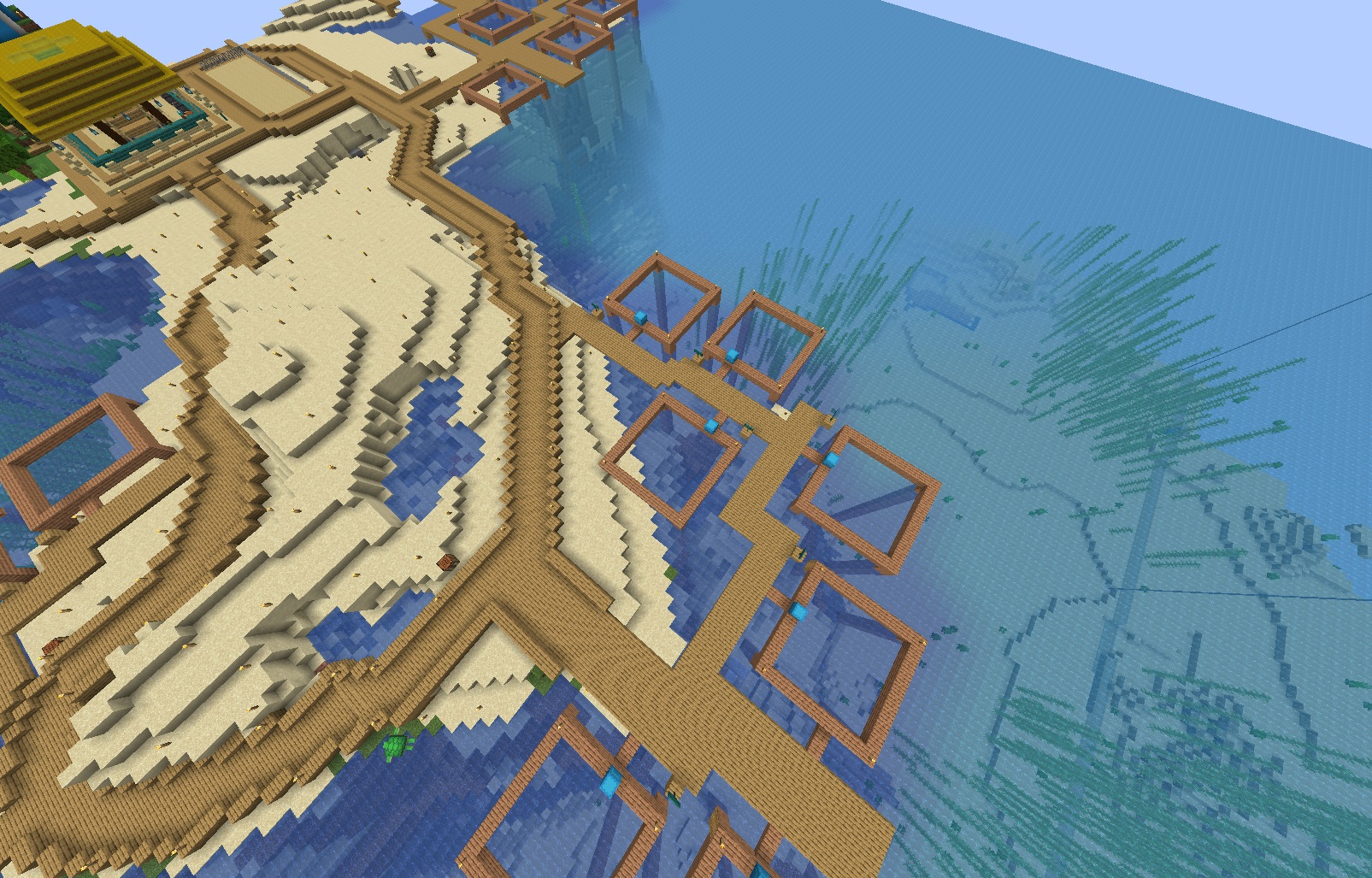 Exodio is hosting a Bungalow Building Contest on Paradise Resort Island! Come and build your dream resort hut and win prizes! Contest will start on Friday, June 18th at 9PM EST and runs through Sunday, July 4th at 9PM EST.
Prizes include Diamonds, Emeralds, and your very own Drinking Chair!
For directions to the Island and full rules, check out the Creeperpedia page at: https://wiki.creeperslab.net/en/worlds/laurasia/map/paradise-resort-island